Home
Solutions Home Sleep Testing
Home Sleep Testing
Maximize Member Convenience and Cost Savings with HOMELINK Home Sleep Testing
Group health insurers nationwide are turning to home sleep testing. Supported by medical findings and cited by the Centers for Medicare and Medicaid Services (CMS), Home Sleep Testing (HST) is replacing traditional facility studies due to its:
1

Cost Effectiveness

Compared to sleep lab studies, Home Sleep Tests is typically at least 60% less expensive, lowering member copay and overall insurer spending.
2

Member Convenience

Members prefer the comfort and convenience of being home, leading to better compliance for completing testing.
3

Faster Diagnosis

Study results in 2-5 days with a failure rate of less than 5%.
All Factors Equal an Improved Member Experience
Sleep Lab Study vs. HOMELINK Portable Home SLEEP Testing
| | Sleep Lab Study | HOMELINK Portable Home Sleep Testing |
| --- | --- | --- |
| Process | Night spent at the sleep lab, numerous electrodes applied | Device delivered, 3 or minimal sensors applied before bedtime |
| Time from Referral to Treatment | 2-12 weeks* | 2-5 days |
| Key Difference | Ideal for seriously ill patients and complicated cases | More simple and less expensive |
| Billed Cost | $1,600-$5,000 | $325-350** |
*Lab studies often involve seeing a specialist first, waiting for insurance approval, waiting for lab availability, waiting for test results and a second in-lab study to determine CPAP pressure. **All sleep studies require physician ordering.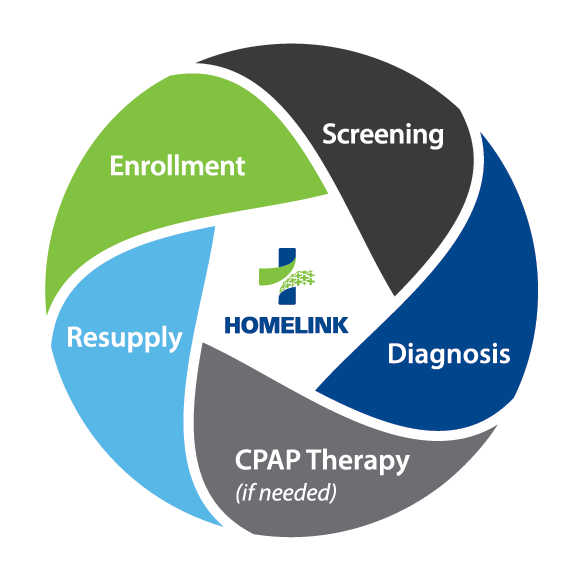 When Working with HOMELINK Home Sleep Testing You Gain Access to:
A comprehensive program offering a cost effective/time-sensitive solution for diagnosing and treating Obstructive Sleep Apnea (OSA)
National network of providers to assist with getting patients set up with their diagnostic study, and if necessary, the auto-titrating CPAP
Resupply service facilitated by HOMELINK
Experience the Difference:

Call

(800) 482-1993

888-501-3591